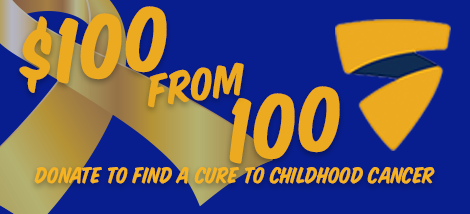 September is Childhood Cancer Awareness Month and we want you join the fight for kids battling cancer! Cancer is the #1 cause of death in children by disease. In the month of September we are asking for your help to raise money to find a cure for this horrible disease and change that fact! 
In the month of September we are running a $100 from 100 campaign. We are looking for at least 100 businesses to donate $100 in honor of Childhood Cancer Awareness month. Please donate and share with other businesses or challenge other businesses to match your donation. Help us save more kids from cancer! Money raised through this campaign and all donations will help us fulfill Sammy's mission of raising money for childhood cancer research. Its our goal to find modern treatments for all types of childhood cancer. 
Follow the link below to donate!