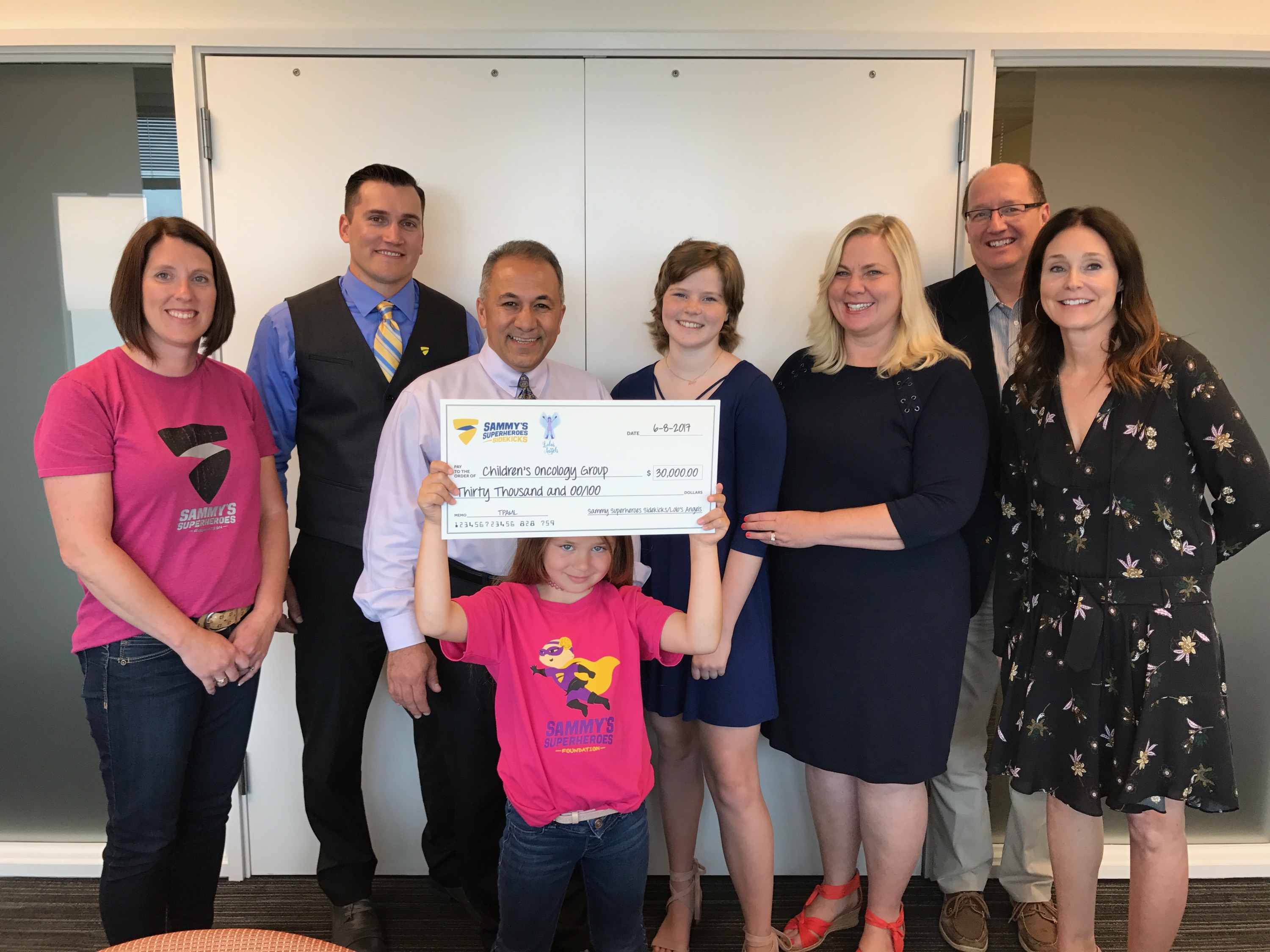 Local Organizations Team Up To Grant $30,000 to Pediatric AML Leukemia Research
Sammy's Superheroes Foundation teams up with Lolo's Angels in their first Sidekick program parter to donate $30,000 to fund a Children's Oncology Group AML project aimed at finding modern treatments for pediatric Acute Myeloid Leukemia (AML).
The "Target Pediatric AML" (TpAML) project is the largest, most comprehensive and methodical disease biology study ever conducted in pediatric cancer, and in acute myeloid leukemia. It is also the Children's Oncology Group's (COG) highest potential, greatest need AML-related research project. This focused discovery effort is sorely needed due to the complexity and diversity of this challenging disease, which remains one of the poorest prognosis in childhood cancers. It will leverage large-scale, deep, genomic sequencing of 1000 banked patient samples, identifying new subtypes, drivers, enablers, unique identifiers (biomarkers) and vulnerabilities. This process will uncover new therapeutic targets, which will be mapped to all existing and emerging targeted agents, resulting in a much-needed, expanded treatment arsenal. As an example of the power of this approach, one new, recently identified target has uncovered 6 potential therapies. TpAML also seeks to provide clinical genomic testing to all active pediatric AML patients to identify existing, novel drugs.
Sammy's Superheroes Foundation and Lolo's Angels are dedicated to funding research focused on finding modern treatments for childhood cancer that will lead to a cure. "AML leukemia doesn't get as much research money as other types of leukemia because it's a rarer cancer," said Lolo's Angels founder Leslee Hacker. "We want to do something that will make a difference for the kids battling AML."
"This program is the type of program we want to fund," said Sammy's Executive Director Jeremy Stanislav. "We are proud to partner with Lolo's to be able fund this important work in AML."
The $30,000 grant is the first grant given away under Sammy's Superheroes' Sidekick Program. The Sidekick Program is designed to offer other groups that want to raise money for childhood cancer to be able to offer tax benefits to their donors without being a 501c3 standing. Money is donated to Sammy's Superhero Sidekicks in honor of the group, in this case Lolo's Angels. The program allows other small groups to pool their fundraising together in order to make a more substantial grant while still honoring their loved fighter.
"Our goal is to raise larger amounts of money to fund research," said Stanislav. "We want to make sure we are moving the needle so that we can find modern treatments and hopefully a cure for so many sick kids."
Lolo's Angels was formed after then 10 years old, Lauren "LoLo" Hacker was diagnosed with Acute Myeloid Leukemia (AML). LoLo is still battling AML and is in a fight for her life. The heartache of seeing their daughter miss out on so many moments a child should have, motivated her parents to start LoLo's Angels with the mission of funding childhood AML cancer research and partner with Sammy's Superheroes Foundation in its Sidekicks program.
Sammy's Superheroes Foundation is a 501c3 non-profits whose mission is to raise money for life-saving research that will lead to modern treatments for all types of childhood cancer. The organization has given over $300,000 to researchers since its incorporation in 2013. Along with fundraising Sammy's is dedicated to spreading awareness and supporting families who are battling this horrible disease.
Sammy's Superheroes Foundation Contact: Jeremy Stanislav, 402-560-1578 or jstanislav@sammyssuperheroes.org. Lolo's Angels Contact: Leslee Hacker, 402-203-7392 or pwh2003@hotmail.com. For more information about the project please contact Jeremy Stanislav for Fred Hutch Cancer Research Center.