Board of Directors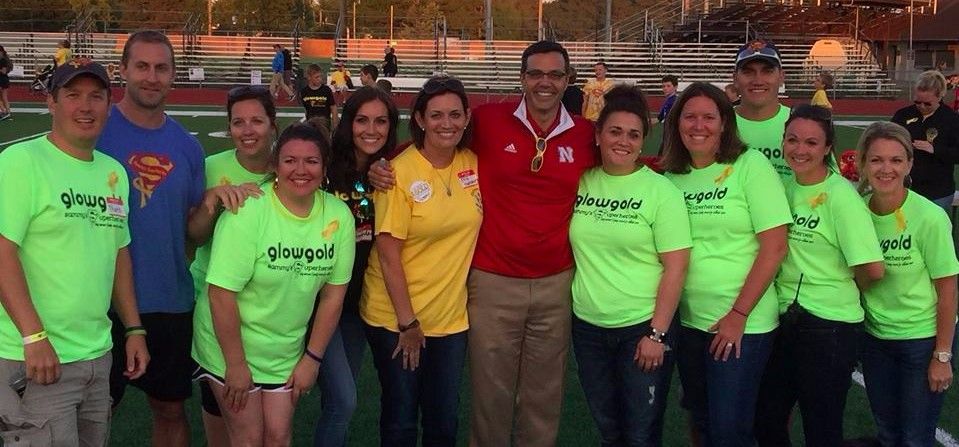 The Sammy Superheroes Board of Directors is composed of volunteer members who all have a have a strong commitment to achieving our mission and helping make a difference is the world of childhood cancer.  
Our board represents a cross-section of our community and has a passion for our organization and those we serve. The members work hard to ensure long-term sustainability of the organization and oversee that the funds raised directly affect those in need.
Erin Nahorny is Sammy's (our inspiration's) mom! She is a founding member of the Sammy's Superheroes Foundation's Board of Directors. She served as our Vice-President from our inception through January of 2016 and as President of our Board of Directors from 2018-2023. Erin currently serves as a member at large. Unfortunately, Erin knows first-hand the lack of funding, research, and treatment options available for many types of childhood cancer. Prior to Sammy's Superheroes, Erin served as the Children's Services Director at the Columbus Center for Sexual Assault & Domestic Violence Survivors. Erin has her MA in Counseling Psychology from Doane College.

When Sammy didn't respond to frontline treatment for Stage 4, High-Risk Neuroblastoma, his family began to look into other treatment options and became desperately aware of the lack of options for treatment and lack of funding for childhood cancer research. Erin, and her husband, Chris, vowed to raise money and fund desperately needed research for ALL TYPES of childhood cancer, so that other families would not have to face this scary reality. Erin is inspired by the families and children she has met through Sammy's journey. The lack of funding for childhood cancer research is shocking and Erin promises to push for more than the 4% of cancer research funding the federal government allocates to children's cancer research.

Outside of Sammy's Superheroes, Erin is a Real Estate Agent with kwELITE Real Estate. She has been actively involved in various volunteer and non-profit entities for the last 20 years. She has worked with the American Red Cross as a Critical Incident Stress Management/Debriefing therapist. She worked with the grief support program, Mourning Hope, as a group facilitator and served on their Board of Directors. She was the Chair for the Columbus United Way's "Kids for Change" Campaign and currently serves as co-chair of the Duck Race Committee. She is a member of St. Isidore's Catholic Church and volunteers at St. Isidore's and Scotus Central Catholic. Erin and her husband, Chris, have three children, Ella (18), Sammy (15), Jacob (12), and fur babies, Lulu and Stevie.

Amy Williams is a co-founder of Sammy's Superheroes. Amy played a pivotal role in the grassroots efforts of the foundation, starting it out of her garage. She has been an active member on the Sammy's Superheroes Board of Directors since the official creation of the non-profit organization, in January of 2013 and previously served as Board President and Vice-President. Amy's hopes of continuing awareness and finding a cure for childhood cancer is a top priority and part of her inspiration for being involved in Sammy's Superheroes. Amy has been quoted many times saying that her goal is that when you hear "Sammy's Superheroes" you instantly think of Childhood Cancer awareness similar to how people think of Breast Cancer awareness when they hear Susan G. Komen. Amy is a stylist and owner of Valencia Salon & Spa and has been the Head Cheerleading Coach at Columbus High School for the past 20 years. In her spare time she's found supporting her husband's football team, cheering on their kids in their many activities, or building and refinishing furniture. Amy and her husband, Craig have 3 children, Alyvia (18), Connor (15), & Sawyer (8).

Amy Brown joins the board with intimate experience in the non-profit realm with a career at the American Red Cross. She currently serves as a Biomedical Business Analyst having previously worked in Sponsor Development. Sammy's Superheroes and the American Red Cross have partnered since the inception of the foundation on local blood drives to advocate & fulfill the need for life-saving blood donations for patients up against the battle for their life.

Amy and her husband, Mark, have two children, Bryce and Ryker. The entire family enjoys supporting Sammy's Superheroes.

Luke Saenz currently works as the Chief Information Officer of Great Plains State Bank in Columbus and responsible for Information Technology Security, Compliance and project management for the bank. 

The Kansas Native grew up in Great Bend and graduated from Wichita State University with a degree in Management Information Systems. Luke, his wife Lisa and their three boys moved to Columbus in October of 2018. He enjoys coaching his sons in their various athletic endeavors, fishing, and golfing. Luke brings technical expertise to Sammy's Superheroes and has been on the board since 2019.  

Michelle joined the board of directors in January of 2019. As a mother of three and a family practice physician, she believes that children are our best investment and are worth every ounce of the fight for cancer prevention, treatment, and support.

A native of northeast Nebraska, Michelle graduated from Battle Creek High School and Nebraska Wesleyan University before obtaining her medical degree from UNMC. After residency, she began her career in Central City, Nebraska, and relocated to Columbus in the summer of 2017. In addition to loving all things chocolate and when not working, she enjoys traveling with her husband, Dale, and children, Logan, Kate and Lydia, and cheering on the Huskers. The Sell family is active at St. Bonaventure Catholic Church and believe strongly in the importance of community involvement and grassroots efforts such as Sammy's Superheroes Foundation.

Alyssa has always had a passion for working with non-profits in the Columbus area. She has volunteered for several other organizations in the community over the last 20 years. When Sammy was diagnosed and the Nahorny family decided to use the money raised toward childhood cancer research and family support by starting a non-profit, Alyssa was ready to help in anyway she could. Learning the devastating childhood cancer statistics and interacting with the families the organization helps, has made her desire to support Sammy's Superheroes Foundation's mission continue to grow over the years.

Alyssa was a member of the Sammy's Board at the organization's inception in 2013. After 5 years on the Board, Alyssa ook a year off but was asked to rejoin the organization at the end of 2018 as Interim Executive Director. At the end of 2019, Alyssa stepped down to resume her full time job with her husband at Ameriprise Financial. She rejoined the board from 2020-2022. Alyssa has her B.A. in Organizational Management from Concordia University in Seward, NE and has spent the last 25 years working in business management and development.

Alyssa and her husband, Sam, have been married for 25 years and have lived in the Columbus community for 24 years. They have 3 children, Brent, Kaitlyn and Maddie. They have a dog, Evie, which has become her 4th child since the kids have moved out. In her spare time, she enjoys traveling, reading, golf and finding ways to be creative such as interior decorating and painting.

Rory Bowen

Rory Bowen is employed by Columbus Bank and Trust Company and serves as their Chief Credit Officer.
Rory has nearly 20 years in the banking industry serving his customers while assisting them in achieving
their financial goals and growing the communities where he lives and works. Rory is originally from
Benson, Az and is a graduate of Doane University, 2002. Rory received his Master's in Business
Administration from the University of Texas at Tyler, 2003. Rory has graduated of the Graduate School
of Banking Colorado, 2009, completed the Nebraska Bankers Association leadership program, 2014, and
has served multiple terms on the Nebraska Bankers Association Education Committee.
Rory is an active board member of the Columbus Chamber of Commerce serving on the Housing,
Legislative, and Agriculture committees. He is a board member and treasurer for Native 360 (Native
American CDFI) and is a member of the Center of Rural Affairs loan committee. Rory has also graduated
from the Leadership Columbus program through the Columbus Chamber of Commerce. Rory and his
wife, Serina, have two children, Kyra (17) and Keagan (14), and in his off-time Rory enjoys being with his
family, playing sports, hunting, fishing, and coaching his children's baseball and softball teams.