Pediatric Cancer Data Commons Project
Almost 90 percent of kids with the most common types of cancer survive. Yet progress has been limited for many other types of pediatric cancer, such as neuroblastoma, brain tumors, and metastatic sarcoma. Even with modern, intensive treatment approaches, cure rates for high-risk neuroblastoma are less than 50 percent. Much work remains to understand how these tumors resist treatment, and ensure that children with any cancer type experience durable cures.
Comer Children's Hospital physician-scientist Susan Cohn, MD, is leveraging University of Chicago strengths in big data and basic science research to improve these outcomes. In 2004, she helped form the International Neuroblastoma Risk Group (INRG): a globe-spanning collaborative effort to collect and share data from neuroblastoma research. Today, the INRG database contains information from more than 18,500 patients.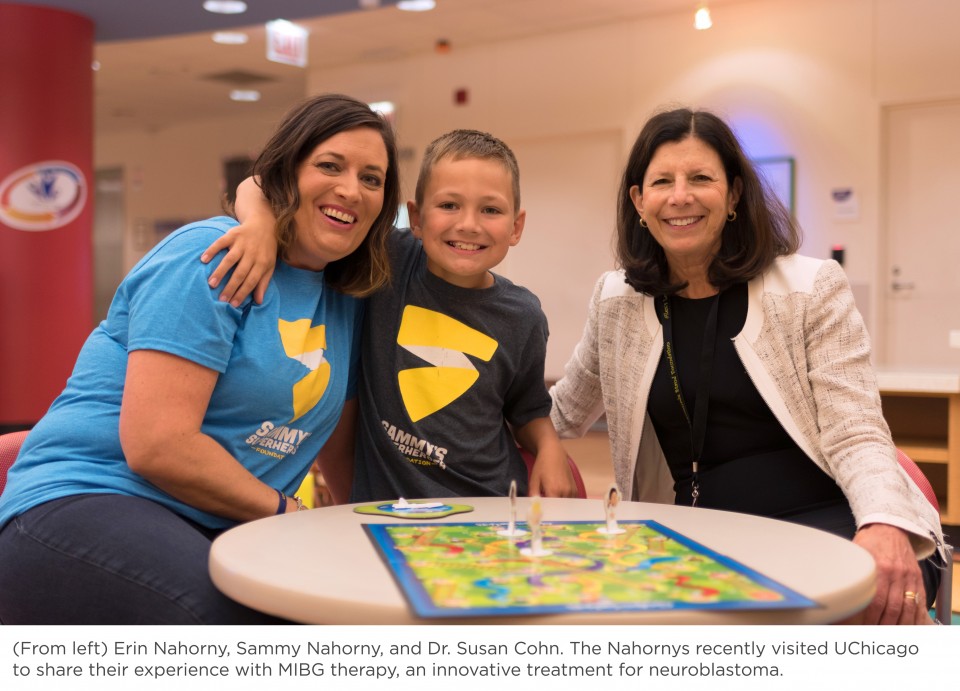 Science rests on the search for patterns. If Newton had only the one apple to go on—instead of a lifetime of watching objects fall—he could never have characterized gravity. For rare conditions like neuroblastoma, researchers have worked from mere handfuls of data points, either because the information wasn't available or it was available in a form (such as published in journal articles) that couldn't feasibly be collected and examined together. Dr. Cohn intends to change that with the Pediatric Cancer Data Commons (PCDC). Leveraging the platform built by Robert Grossman, PhD, at the University of Chicago for the Genomic Data Commons—a $38 million National Cancer Institute project to collect, standardize, store, and analyze genomic and clinical information from thousands of cancer patients—the PCDC will link clinical pediatric cancer databases (like the INRG's) with genomic data and will provide the analytic tools that will help researchers find patterns associating patient genetics and tumor genomics with treatment response and outcome. For example, the PCDC could reveal correlations between certain tumor genetics and patient outcomes, which would lead to better diagnostics: doctors could know, with a biopsy, that patients with specific genetic features would do best with lower doses of chemotherapy.
Check out this article by University of Chicago Medicine and an update on this project: https://www.uchicagomedicine.org/pediatrics-articles/pediatric-cancer-data-commons-aims-to-accelerate-research