Programs & Services
The #1 mission for Sammy's Superheroes Foundation is to fund modern treatments that will lead to a cure. Our vision is a world where childhood cancer no longer strikes fear and despair in hearts and minds of families when their loved ones are diagnosed. While funding a cure and finding modern treatments may come first, we have not forgotten about the families and the importance of supporting and comforting them. We strive to do this through our programming and services. 

Grant Funding
At the core of our mission, we want to help more kids survive cancer and push for a cure. We feel it's close, but too many times, lack of funding gets in the way. With only 4% of the National Cancer Institute's budget earmarked for pediatric cancer, there are huge gaps in funding for the researchers who could be on the edge of a breakthrough. Most pharmaceutical companies won't support this research because there is no profit and the government will not allocate more funds for childhood cancer research. That leaves it up to non-profits like Sammy's Superheroes Foundation- we are here to fill in the gaps in funding because we don't see kids as a dollar amount or statistic. 
Our grant funding in the past has helped researchers at Duke University, Dana Farber, Comer and Children's Medical Center in Omaha continue their research programs to help fight all types of childhood cancer. All types of childhood cancer is another key part of who we are; we don't focus on one specific type of cancer because we don't want ANY families to suffer. Our goal is to fund researchers who are doing ground-breaking, innovative research that will lead to modern treatments for childhood cancer and pave the way to find a cure.  
Awareness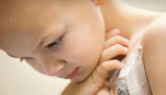 Childhood cancer awareness is an important part of our programming. When most people hear the word cancer, instantly they think of breast cancer, lung cancer or some other type of adult cancer. Childhood cancer is rarely top-of-mind unless there is some sort of personal connection. Many don't like to think of young children having cancer, but it's reality. Helping to create awareness is crucial to helping us raise money for more research and modern treatments. 
Our goal is to inform people about the issues that face those battling childhood cancer, and to inspire people to get involved by spreading awareness and helping to raise funds to support Sammy's Superheroes Foundation's mission. We want the golden ribbon to be as recognizable as those that are pink and orange. We want September to be a month of intense awareness for our fight and support of those families affected by this terrifying disease. 
Our strategy for awareness is to use as many forms of communication as possible. We use social media, radio, TV, outdoor and print. Our organization can't just raise awareness through media alone. We like to get out in the public and tell our story and spread our passion for this cause in a more personal way. We offer presentations and events to help draw attention to anyone that will listen. Sammy's Superheroes Foundation will keep spreading our message and we will defeat childhood cancer. 
Advocacy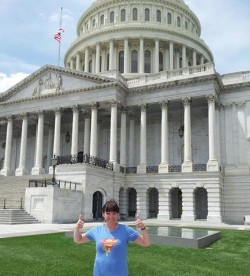 Advocacy - Government spending for childhood cancer is less than minimal. Only 4% of the National Cancer Institute's budget is dedicated to childhood cancer research funding. Our children are worth more than 4% of the budget. We will keep advocating for improvements by pushing out elected officials to make changes, informing and making government officials aware of the lack of help available for children with cancer, and help the researchers that are searching for a cure. 
Family Support
Sidekicks
Our Sidekicks program is a new, innovative way of raising more awareness of childhood cancer and funds for research. This program is designed to help families or action groups who are passionate about funding research, offer their donors tax benefits without going through the time-consuming process of becoming a federal 501(c)3 non-profit. 
When a group becomes a Sammy's Superheroes Sidekick, they can give their donors a tax receipt allowing that donor to get the tax benefits from their gift. The gift is donated to Sammy's Superheroes Sidekicks in honor of their groups name (ie Ava's Army). The program is designed to allow groups to continue to honor the brave loved one their group is named after, but still make a difference. The Sidekick can then choose what type of childhood cancer research they would like their funds to support or allow Sammy's Superheroes to choose a project in need of funding. 
As more Sidekicks join the program, money can be pooled with other Sidekicks to increase the amount of the grant, thus making a bigger impact in the research process. So for example, a $5,000 donation can be a part of a $50,000 grant, and the group raising it has now made a bigger impact than they could have with just a $5,000 gift. 
Along with tax benefits for donors and larger grant possibilities, Sidekicks also receive a page on www.sammyssuperheroes.org, use of online donation options and promotion on our website and social media platforms. 
We will unite in the fight against childhood cancer.