The Sammy's Cup: A Weekend of Hockey For a Cure
TO VOTE FOR YOUR TEAM BY MAKING A DONATION OF ANY AMOUNT PLEASE VISIT: SAMMYSCUP.ORG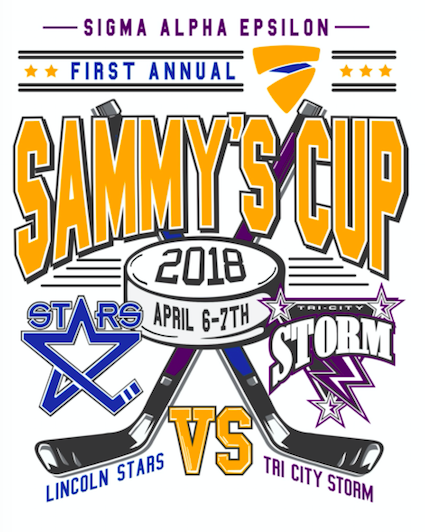 Friendly rivals, the Tri City Storm in Kearney and the Lincoln Stars are playing back to back on Friday April 6th and Saturday April 7th. 
Proceeds from every tickets purchased online using the proper coupon codes or from a Sammy's Superheroes UNL representative will be given to Sammy's Superheroes' mission of raising awareness of and funds for childhood cancer research. There will also be a brave starting line up at each game where 6 cancer fighters or survivors will be honored, along with a fun night dedicated to them and their families.
Stay tuned for this fun weekend of hockey & good company, all for a great cause!
To purchase Tri-City Storm tickets for Friday, April 6th, visit: https://www.etix.com/ticket/p/4154499/tricity-storm-vslincoln-stars-kearney-viaero-center-tricity-storm  or call 308-338-8144 and mention the Sammy's Superheroes game for $5 from each ticket to be donated back
PROMO CODE: 
Adult Ticket: SAMMYS
Kid Ticket: SAMMYSKID 
To purchase Lincoln Stars tickets for Saturday, April 7th, visit: https://www.etix.com/ticket/p/7771292/lincoln-stars-vstricity-storm-lincoln-the-ice-boxlincoln-stars-hockey
PROMO CODE: Sammy
WHY USE A PROMO CODE? When you use your promotional code when purchasing tickets online, $5 from every ticket purchased will be donated toward Sammy's Superheroes Foundation's mission of funding childhood cancer research. 
Want to WIN FREE tickets from Viaero Wireless?
Check out how: http://info.viaero.com/sammys-superheroes-vec-ticket-giveaway