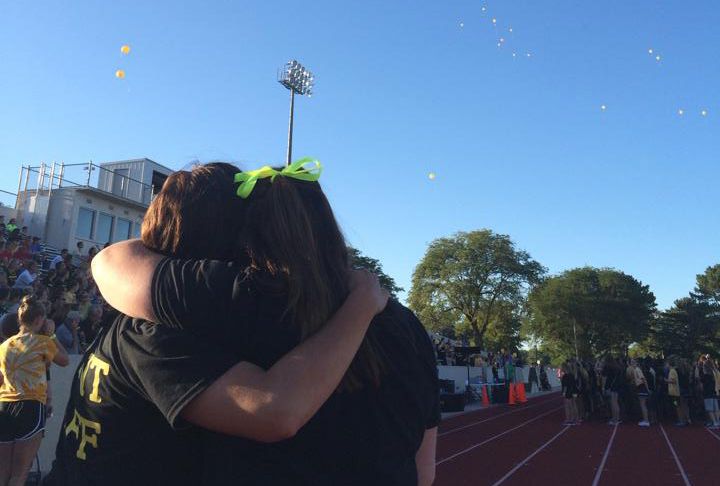 Photo Gallery
Thank you, Ginger Paulter, for sharing this #superduperawesome picture with us!! ;) Go Team Jack! Go Sammy's Superheroes!

Thank you for your support Columbus Fire and Ice 18's!!

Maddy, Cameron and Phoebe supporting Sammy at CHS!! Awesome!!

Thank you Hitz family!!

Taylor rocking her Sammy shirt!!!

Thank you Kim and puppies for your support!!!

Erb Superheroes!

Thank you Nikki for your Sammy' Superheroes support!!

More superhero love from the Fleming clan!

Sammy's Superheroes on Capitol Hill!

Handsome superheroes! Kody, Tyson and Tiki! Thank you for sharing with us!!

The first lemonade stand of the season!! Thank you for your support!!

Omar, Katie, and Levi sending Sammy superhero love!!!

Our buddy Chris, running in the CO marathon!!

Sammy's Superheroes is officially a 501c3 non-profit foundation!! CHEERS!!

St. Isidore's Superheroes visited Washington D.C. Awesome picture!! Thanks for sharing with us!!

Our friend, Charli, sending Sammy love on Relay Day! Charli will be walking the survivor lap for the 6th time tonight! The Relay for Life at home (Columbus, NE) is tonight. We wish we could be there, but we will be thinking of you all as you honor and re

Sammy's Superheroes Lemonade Stand in Okoboji, IA! Raising money for childhood cancer research. Thanks Alison Kelly and family!

Sammy's Superheroes 4-wheeling! Thank you, Preister's, for sending this awesome picture. Sweet Charli is in remission from Neuroblastoma. We heart Charli's pink 4-wheeler... Stylin'. ;)

Sammy's Superheroes are so helpful!! :) This is our cousin, Allison, in Sioux Falls, SD... Thank for sharing this adorable pic!!

Thanks for the awesome picture Lauren Jo.... Sammy's superheroes in Two Harbors, MN sending prayers and thoughts your way!

Sammy and Mom with the "Sammy's Superheroes" team at the Columbus Classic Soccer Tournament! Thanks girls!! We loved watching you play!

Thank you Gassen's for spreading awareness of childhood cancer on your family vacation!!

Sammy's Superheroes walked in the Platte Center, NE annual 4th of July parade! #raisingawareness

We love the Ames family! Kathleen and her sweet boy sending Sammy love from Kansas City!

Had a visitor from home! Jonathan Niles was here for the Cubs game sporting his Sammy shirt!!

With cousins Ben and Kate at Shedd Aquarium

Some of our favorite people in the world (and the world's best babysitter)! Terri and Chad Stuart, Abigail, Tyler and Sydney... we love them!!

Spreading awareness at the KC Royals stadium! Go Sammy! Go Royals!

Thank you Sliva's!! Super cute crew at the zoo yesterday!

No big deal... These Superheroes are just hanging out with Kenny Bell at the Uplifting Athletes 5k today... ;) Ummm.... Awesome!!! Thank you Elaine Zoucha for sending this super cool pic!!

Sammy's Superheroes support Team Jack!

This sweet superhero is spreading awareness in Iowa... and feeding the cattle... :) Love it! Thanks Connor!!